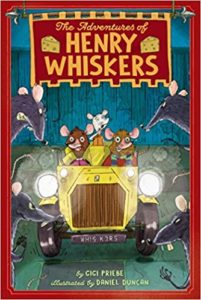 Henry Whiskers is a mouse who lives with his family in Windsor Castle, where the biggest dollhouse ever built draws visitors from around the world. Henry is the 25th mouse of that name to live in the cedar drawers under the dollhouse. All the mice are careful to stay hidden during the day when staff and tourists are about. But at night they are free to roam around the castle, careful to watch for the resident cat and stay away from rats.
The Adventures of Henry Whiskers by Gigi Priebe is a cute series for young readers aged 7 to 10. Henry is smart and the oldest of his mouse siblings, which number 15 total. He feels responsible to help his mom and look after his brothers and sisters. His cousin Jeremy is more carefree, focused on having fun and finding something good to eat. Together the two get into situations that Henry has to use ingenuity to find a way out of.
Henry is a kind and thoughtful mouse, and the story showcases the value of friendship, working together to solve problems, meeting family obligations, and more. It's also fun to read about the details of the dollhouse and the castle as the characters move through them. A note at the beginning describes the dollhouse as being eight feet long, four feet wide, and five feet tall. It's filled with miniature furniture, kitchenware, toilets that flush and a marble staircase. It's the perfect place to imagine a mouse family living.
Daniel Duncan's illustrations at the beginning of each chapter are great at portraying the personalities of all the characters. The Adventures of Henry Whiskers is a great start to the series with a story reminiscent of Stuart Little. It's sure to appeal to young children.
The publisher provided me with a copy of this book in exchange for my honest review.