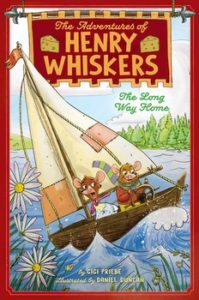 When Henry finds a mysterious map in the desk drawer of the queen's dollhouse, he runs to show his discovery to his cousin Jeremy. But the two are spotted in the kitchen, whisked into a bowl, and driven away to a park, where they are set free. With the help of the map they set off on an adventure that involves sailing, flying, and learning about the wide world outside of Windsor Castle.
The Long Way Home by Gigi Priebe is second in The Adventures of Henry Whiskers series. Readers learn more about the queen's dollhouse where Henry lives with his family as his mom worries abut where Henry and Jeremy have disappeared to. The young mice must use all their ingenuity to find a way home. Along the way they evade predators, meet a family of field mice, and learn more about Henry's dad, who died in a fire while saving other mice.
Young readers aged 7 to 10 should have lots of fun reading about Henry's world and traveling along with him and Jeremy.
The publisher provided me with a copy of this book in exchange for my honest review.