Gigi Priebe is the mother of three, the founder of Stepping Stones, an award-winning children's museum in Norwalk, Connecticut, and the author of The Adventures of Henry Whiskers, the first in her middle grade series. When she is not writing–or rewriting–she is a philanthropic advisor and community volunteer in Fairfield County, Connecticut, where she lives with her husband, a cat named Tigger, a dog named Clover, and probably some mice. To learn more and to download a free curriculum guide, visit gigipriebe.com.
Read my review of her books: The Adventures of Henry Whiskers, and The Long Way Home.
From Children's Museum to Children's Books
By Gigi Priebe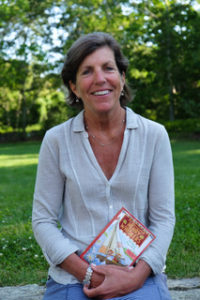 I often feel like an accidental tourist who landed in a life full of good fortune, compelling new challenges, and surprising results.
When I got my degree in early childhood education, I never knew I'd become a children's book author or the founder of an award-winning children's museum. I didn't even go into teaching. Instead, I worked at a start-up, learned some marketing skills, then quit, got married and started the family I'd always dreamed of. So how did I get here?
The children's museum, called Stepping Stones Museum for Children, was an idea born from a well-recognized need in my region for a quality educational resource dedicated to young children and the way they learn best—experientially. For me, the effort to turn vision into reality took eight years. It required enormous coordination and collaboration with talented people, volunteers, donors, and city and state officials.
Creating a children's book was, and is, the exact opposite experience from creating the museum. Writing is a mostly solo act. My only companions are Me, Myself, and I. On good days, the little voice in my head keeps me company, but my computer does little to compensate for my weaknesses or celebrate the successful passages along the way to a finished product. Coincidentally, this project also took me eight years from start to published finish.
So what do a children's museum and a children's book have in common, you might ask? Each nurtures imagination, stimulates curiosity, and compels a child to explore new worlds in a safe environment where they can learn at their own pace, in their own way. If well done, both a children's book and a children's museum will leave a child wanting for more. And isn't that what we all want?
I can tell you that I never would have pursued either of my ideas if I hadn't received tremendous encouragement from others who believed in them. Encouragement was and always is the powerful elixir that fuels my efforts, even when they take a long time and the outcome is not guaranteed.
Thank you to everyone who has ever encouraged me to pursue my ideas. I'd like to pay it forward and encourage you to pursue yours. You never know what might happen.
The Long Way Home (book #2 The Adventures of Henry Whiskers) due out August 29th. Simon & Schuster. Ages 7 – 10
Save