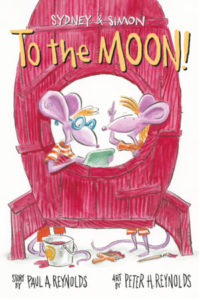 Twins Sydney & Simon are working on their own to create a big project about the moon. The winner of the classroom STEAM project will get to meet a famous astronaut. Sydney has the creative part down, while Simon is good at research. After working alone, they realize their project will have much more impact if they combine what they're both good to complete the assignment.
Sydney & Simon: To the Moon! adds to the popular series by Paul A. Reynolds for readers aged 6 to 9 with a story about creating art, scientific research, and the benefits of working together to meld the two. Many schools focus on STEAM, which stands for Science, Technology, Engineering, Arts and Math, as a way to help kids learn about important topics. Sydney and Simon show how that can actually work. Sydney's art project doesn't help anyone learn about the moon. Simon's facts about the phases of the moon are dry and uninteresting. But once they collaborate, they find a way to effectively communicate.
As the story unfolds, young readers also learn about the moon, and they may become inspired to make observations of their own. With the help of a parent, they can track moon phases throughout a month just like Simon does. There's also a list of items kids can use to make their own telescope at home. Although it would have been helpful to provide instructions to go with the list, parents who want to do this activity with their children can find them online. (Here are some from National Geographic Kids.)
Illustrations by Peter H. Reynolds are colorful and cute, depicting family and classroom life in a way that will resonate with young readers. A glossary of terms at the end is helpful, and a note from the author and illustrator (twin brothers) about the benefits of STEAM learning is inspiring.
The publisher provided me with a copy of this book in exchange for my honest review.