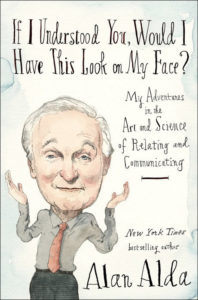 A book that claims to be about helping people communicate better has a tall order to fill. To live up to it's claim, it has to do an excellent job of communicating to the reader. It helps if amusing stories carry the reader along while he learns practical advice he can put into use everyday. I'm happy to say that Alan Alda's If I Understood You, Would I Have This Look on My Face? My Adventures in the Art and Science of Relating and Communicating lives up to it's promise.
Alda is known for his acting, writing and directing, but perhaps the accomplishment he is most proud of is interviewing guests for Scientific American Frontiers, a series that ran for a decade. As host, Alda talked to scientists who explained new developments in science and medicine. His experience set him on a quest to help people communicate complicated ideas in ways that anyone could understand.
But Alda also realized that miscommunication between people happens all the time in daily interactions, and it can lead to problems both large and small. If I Understood You is meant to help people communicate more clearly through developing empathy and understanding of others.
Peppered throughout with personal stories and communication research, the book also features improv acting exercises that Alda promotes as ways to help anyone communicate better and understand what others are saying to them.
There aren't many books I recommend to everyone I know, regardless of age, but If I Understood You is one of those books. Reading the book is like listening to a trusted friend giving helpful advice. It's fun, interesting, practical and thought provoking, and it should appeal even to those who normally only read fiction. If you'd like to get a feel for the style, you can read an excerpt from Chapter 12.
P.S. — I've chosen this book as my book-club pick for the couples book club my husband and I belong to. Later this summer I'll be posting about our meeting along with recommended activities and discussion questions for other book clubs.
The publisher provided me with a copy of this book in exchange for my honest review.
Save
Save