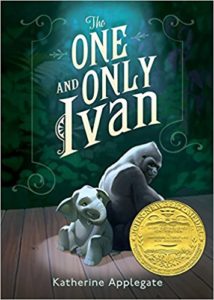 Ivan the gorilla is part of a roadside attraction that includes several animals as well as a video arcade and a restaurant. Inspired by the real-life story of a gorilla taken from the wild as a baby, The One and Only Ivan by Katherine Applegate imagines the tale from Ivan's point of view. The longer he lives in his cage watching people watch him, the less he wants to remember his days in the jungle with his family.
Ivan's friends in captivity include an elephant named Stella and a stray dog named Bob. He's also an artist, creating pencil drawings on paper that his owner sells in the gift shop. He draws the objects he sees until the day a baby elephant named Ruby comes to live with Stella. Ivan imagines a future for Ruby where she can smell fresh air and live with the feel of grass on her feet. He develops a plan to make that happen.
The One and Only Ivan is a story of tender friendship and the way we can create a family from those we care about and who care for us. Applegate tells the story in spare prose, always focusing on how Ivan sees things through the limitations of the cage where he in and the materials he has available with which to communicate.
Patricia Castelao's illustrations in black and white reflect the muted existence Ivan and his friends experience. As the story unfolds young readers learn about the lives of gorillas in the wild and the vulnerability of animals in captivity. As they cannot choose who owns them, they are susceptible to abuse and neglect. In Ivan's case, a well-meaning owner grows increasingly desperate for revenue as fewer and fewer people stop by his attraction to spend money.
An author's note at the end talks about the real Ivan and his life. Ultimately, The One and Only Ivan educates and inspires readers to learn more about animals of all kinds. I recommend it for readers aged 9 to 12.
I checked out a copy of this book from the library and have provided an honest review.
Save