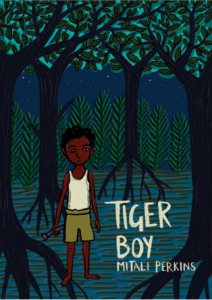 Neel is nominated for a scholarship that will take him away from his small island in West Bengal to study in the city. His headmaster believes he has promise and can go on to do great things. But Neel doesn't want to leave his family, his friends and his village. He wants life to go on there as it always has.
Yet he sees how much is changing when a tiger cub escapes from a nature reserve and swims to Neel's island. Everyone is out searching for her. Some want to rescue her while others want to poach her for money. Can Neel and his sister save her?
Tiger Boy by Mitali Perkins offers a glimpse into village life in the Sunderbans, an area in the delta of the Bay of Bengal that borders India and Bangladesh. Life may be simple there compared to more developed areas, but people sometimes struggle to provide for their families. Neel's desire to save a tiger cub comes from his father teaching him to do what is right in life. But he is in conflict because his father helps the poachers, who give him money that can be used for Neel's education. How can he both follow his conscience and honor his father?
Perkins brings attention to this little known part of the world with a story that resonates for families in many circumstances. In an author's note at the end she talks about the particular problems in the Sunderbans, where people, animals and nature are all trying hard to survive.
She says, "People. Animals. Land. Trees. Climate. Greed. Hunger. Need. All these elements converge to create a cyclone of struggle in the Sunderbans. The survival of the village communities, the majestic Bengal tiger, and other endangered species depend on a concerted global effort. This book is my way of inviting us to become part of the solution."
Perkins also provides a list of organizations working with Bengal tigers and others working to improve life in the Sunderbans. A glossary at the back helps readers learn more about unfamiliar terms. I recommend Tiger Boy for readers aged 7 to 10.
The publisher provided me with a copy of this book in exchange for my honest review.
Save
Save