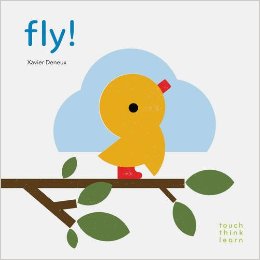 I'm a big fan of Xavier Deneux's TouchThinkLearn series, and previously I've reviewed Colors and Opposites, two titles in the series. So I was thrilled to receive a copy of the newest title, called Fly!
In Fly!, a little bird meets a mate and together they build a nest. Soon after they tend two eggs in that nest until the eggs hatch, the baby birds grow, and finally, one takes its first flight. It's a beautifully simple story that tunes little ones into the natural world just outside their bedroom window.
What I really love about Fly! is that each page not only features cut-out images, which the series is known for, but some of those images have puzzle pieces that can be removed from one page and inserted into a spot on the next page.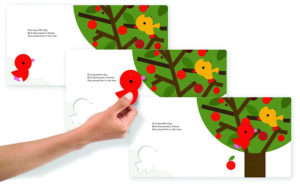 For example, the opening pages say, "Bird arrived at the foot of the tree. It was the end of a very long journey." The left-hand page features a cloud shape and a simple yellow bird with a red beak and red feet. The right hand page shows an illustration of dirt with grass, and a tree sprouting green leaves. A bird-sized cutout sits at the bottom of the tree, so a toddler can move the bird from its place on one page to the puzzle cutout on the other.
It's the kind of hands-on involvement that toddlers love in books and that teaches gross motor skills at the same time. Here, children can pretend they make the bird fly, on other pages they can move the sun in the sky, build a nest, and watch eggs crack.
Will the puzzle pieces last? When dealing with toddlers it's likely that the pieces will eventually bend, but the cutouts seem tight enough to hold them in place through many readings. I highly recommend TouchThinkLearn: Fly! for ages 2 to 4.
The publisher provided me with a copy of this book in exchange for my honest review.
Save