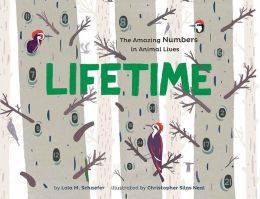 Lifetime: The Amazing Numbers in Animal Lives is a picture book for kids that combines math and nature in a way that's fun.
Written by Lola M. Schaefer and illustrated by Christopher Silas Neal, Lifetime asks questions such as: How many eggs will a spider lay in its lifetime? How many antlers will a caribou shed? How many roosting holes will a woodpecker drill? The answers (1, 10 and 30 respectively) are fun to think about and talk about as they relate to the animal, its habits and its lifespan. The warm, muted colors of the illustrations are comfortable and soothing. Also, because the illustrations show the number cited (even 1,000 baby seahorses one male will carry!), it's easier for children to get the concept and they can count up on their own.
Other animal numbers include teeth on a bottlenose dolphin, spots on a giraffe, eggs layed by an alligator, flowers visited by a monarch butterfly and more. The back of the book features more information about each creature highlighted in the book, as well as an explanation for how the numbers were determined. For instance, to determine the number of fleeces in an alpaca's lifetime the author calculated 20 years for an average lifetime times one fleece per year to get 20 fleeces in a lifetime. There's also an explanation for how to get an average of something, and two puzzles left unsolved that parents can work on with their kids.
Young children are often attracted to facts about animals and nature, and Lifetime is a great way to work in a little math while they read. It's sure to be a hit with kids and parents.
The publisher provided me with a copy of this book in exchange for my honest review.