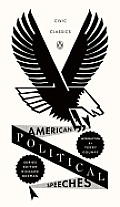 Part of Penguin Books Civic Classics, American Political Speeches by Terry Golway should be on every American's bookshelf. Here is a collection of speeches that many of us have heard of at some point during our schooling or in common reference, but chances are many of us also have not read the texts.
Speeches ranges from those given by presidents—Washington, Jefferson, Lincoln, Roosevelt(s) and more—to noted figures such as Frederick Douglass, William Jennings Bryan, and Hillary Clinton. My book club chose this for one of its selections, and we had endless topics to discuss. Which speeches surprised us? Which ones inspired us? What issues has our country dealt with in the past that we are still addressing today? Which ones seemed prophetic?
We talked for two hours and could have gone on for longer if we hadn't run out of time. This is a great selection for mother-daughter book clubs with girls aged 14 and up or for adult book clubs. Each of the members in our group of adults said we'll buy more copies to pass on to friends, coworkers and other family members. Also, we all said we'd like to get others in the series, which includes Supreme Court decisions, Thomas Paine's Common Sense papers and Lincoln's speeches. There's not much higher of a recommendation I can give than that.