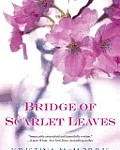 In southern California on the eve of World War II, Maddie and Lane go against each of their family's wishes and marry. Although Maddie is white and Lane is a Nisei, an American born to parents who emigrated from Japan, they are sure their love for each other will help them overcome the obstacles.
Pearl Harbor and America's entry into the war changes everything in ways they could not have anticipated. Suddenly, Lane's father is spirited away to a detention center for questioning, and the weeks drag on without his return. The rest of the family is forced to leave everything behind and enter an internment camp. But the challenges they face have only just begun, and they will continue to be taxed as long as the war is on.
In Bridge of Scarlet Leaves author Kristina McMorris returns to the time in history she brought to life in Letters from Home. In her new book, she focuses on the challenge Japanese Americans faced during World War II, and what it was like for the people who looked beyond race to see them as simply Americans. Even before the war, mixed relationships were frowned upon, and anyone bold enough to enter into one had to endure whispers, stares and disapproval. After the war began, it was even more difficult.
This sweeping tale goes behind the fences of an internment camp and a POW camp. It looks at the experience through the eyes of American soldiers in the Pacific arena, and at the lives of those back home. Through it all, the focus is on human resiliency—the inner reserves of strength that can help someone shore up when circumstances conspire to bring them down.
While McMorris's story is fictional, it has a personal significance as well, as she is half-Japanese. The research she conducted for the book was extensive, and it shows not only in the life she breathes into her characters, but in the way she paints the places they inhabit. In Bridge of Scarlet Leaves she tells a great story that I highly recommend.
The author provided me with a copy of this book to review.