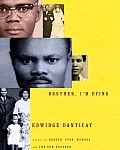 Brother, I'm Dying is Edwidge Danticat's memoir of growing up in Haiti and the U.S. In Haiti, most of her years were spent with her aunt and uncle, who felt more like the mother and father she barely remembered until they came back from New York to get her and her brother, Bob. Once in New York, she adjusted to life with new siblings who were born there.
Danticat weaves a story of the rich culture of Haiti, and the easy-going way of life many of its people enjoy. A few folk tales illustrate this culture and give a glimpse of the Haitian spirit and way of thinking. She also talks about the political unrest that has punctuated so much of its history, and the devastating effect on its citizens.
In many ways, Brother, I'm Dying is as much a story of the two men who were central in Danticat's life—her father and her Uncle Joseph—as it is a story of Danticat herself. Members of a large family with many siblings, these two men were at opposite ends of the age range, with Danticat's father the younger of the two. Uncle Joseph cared for the children of other friends and siblings over the years, and as the pastor of a church in the Bel Air neighborhood, his generosity of spirit was a role model to many neighbors. Danticat's father, Mira, sacrificed a lot for his children, and he instilled a love of family that comes through the narrative.
I've seen this book described both as autobiography and as memoir. In my opinion it has less the feel of memoir, which seems more like a conversation to me, and more the feel of autobiography, although it may be a bit of a hybrid. I kept hoping to learn more about Danticat's emotional reaction to events in her life and her native country, but it was more a telling of the details. Those details are very interesting and well worth reading, but different than I've come to expect from memoir. More emotion does come through in the last chapters, which deal with the deaths of both Joseph and Mira.
Brother, I'm Dying is interesting to read to find out more about the complicated country of Haiti, which has recently suffered much misery after the devastating earthquake.