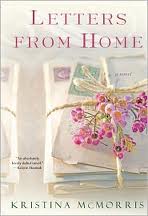 Synopsis: In the midst of World War II, a Midwestern infantryman falls deeply in love through a yearlong letter exchange, unaware that the girl he's writing to isn't the one replying. Woven around this tenuous thread are three female friends whose journeys toward independence take unexpected turns as a result of romance, tragedy, and deception, their repercussions heightened by an era of the unknown. "Ambitious and compelling…[a] sweeping debut" (Publishers Weekly), LETTERS FROM HOME is a story of hope and connection, of sacrifices made in love and war – and the chance encounters that change us forever.
Review: In today's world of instant communication, it's hard to imagine a time when letters received and sent were the main ways people kept in touch. During wartime those letters were particularly important, keeping the thread of connection between soldiers fighting and those back home worried for their safety.
In Letters From Home, author Kristina McMorris has captured both the beauty and frustration that comes from mailed letters. The beauty is having something you can hold in your hands and read over and over again. It also seems like people were more apt to take time expressing their thoughts and their feelings when writing by hand than when sending an email, and certainly more than texting. The frustration came from waiting possibly long periods of time between correspondences. In wartime, the worlds of both the sender and the receiver could have changed significantly in that lag time.
The story centers around three female friends in Chicago who are roommates. Each of the girls has a different personality and a different approach to personal relationships. Julia is committed to staying true to her fiancé who is fighting in Europe. Betty is beautiful and a real attraction to men, but she searches for something that will give her real meaning. And Liz is engaged but she can't help but remember the young man, Morgan, whom she met the night before he left to fight in Europe.
It is the letters between Liz and Morgan, who thinks he's writing to Betty, that carry the heart of Letters from Home. It's a thoughtful novel that will give mother-daughter book clubs with girls aged 15 and up a lot to talk about. Some of the issues include: How do you know when you truly love someone? How do you show your true personality to someone who expects you to act a different way than you'd like? Is it ever okay to pretend to be someone else if you think it will help the person you're pretending for? What are the differences in gender roles between women in the 1940s and women of today? I highly recommend it.