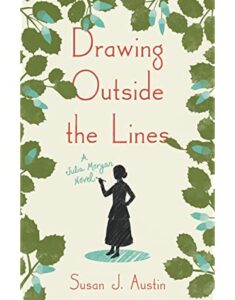 Architect Julia Morgan overcame barriers and blazed the way for women in the profession. In the early 1900s, she was the first woman admitted to study architecture at the École de Beaux Arts in Paris and the first woman in California to be granted an architect's license.
Author Susan J. Austin has imagined the life of a young Julia Morgan and how she persisted against the norms of society to pursue her dream in the novel, Drawing Outside the Lines. Julia's real life family and friends also appear in the novel, some of whom were well known in their own right.
Austin brings that time in American history to life, revealing how women were routinely discouraged from choosing education and career over marriage, and the ways they had to excel to be taken seriously. Julia knows she is held to higher standards, but her desire to create is strong, and she is not willing to give in to expectations.
Drawing Outside the Lines is an inspirational read for anyone who dreams about following their hearts to achieve the unexpected. I recommend it for readers aged 10 to 13.
The publisher provided me with a copy of this title in exchange for my honest review.