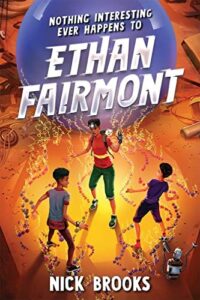 Ethan Fairmont likes to invent things. His newest project is a robot to help his elderly neighbor clean her home. But when the robot goes haywire, he takes it to the abandoned, closed-down factory building where his dad used to work. He's got a stash of odds and ends there to help him tinker. But Ethan is shocked to discover an alien and his crashed spaceship in the factory. Can he and his friends figure out how to help fix the ship before the authorities find it and their new friend Cheese?
Nothing Interesting Ever Happens to Ethan Fairmont by Nick Brooks is a fun adventure story about new friends, old friends, visitors from far away and helping out those in need. Ethan has to confront his bully, repair his relationship with his old friend, and navigate issues at home. An undercurrent involves wariness among people with black and brown skin to interact with police and the authorities. It's a fraught relationship with a long, troubled history.
Author Brooks handles deep issues with a light touch, making points about them without losing track of the story he's telling. Ethan Fairmont is a compelling read that should appeal to boys and girls aged 9 to 12.
The publisher provided me with a copy of this title in exchange for my honest review.