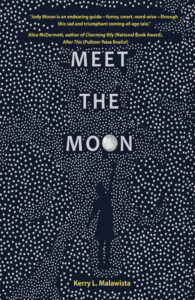 At 13, Jody Moran wants what most girls her age want: pierced ears, getting a bra, kissing a boy. But when her mom dies suddenly in an accident that severely injures her younger brother, her whole world is upended. Suddenly she and her older sister are caring for three younger siblings and helping out more around the house while their dad adjusts to being a single parent. Plus Jody wonders: If she had been a better daughter would this tragedy have happened?
Meet the Moon by Kerry L. Malawista is a coming of age tale that explores family relationships, especially through grief. Jody has a lot of questions about her changing body, pushes the limits of what her dad allows her do, and thinks her grandma moving in with them will make life feel more normal. When things don't turn out the way she expects, she turns to books for answers about deep concepts, like love, marriage and death. But reading without talking about the issues can sometimes be confusing. Ultimately, she gets through the uncertainty with the help of her family and friends.
With its references to the culture of 1970 (when the story takes place), its humor, its questions about the endurance of family in the face of tragedy, and the way it matter-of-factly addresses questions many young teens may have, Meet the Moon makes a great book for discussion in a mother-daughter book club or as individual reading for ages 10 to 14.
The publisher provided me with a copy of this title in exchange for my honest review.