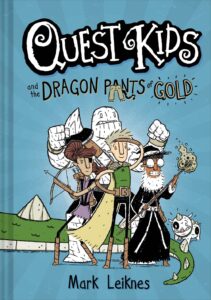 Quest Kids and the Dragon Pants of Gold follows the adventures of Ned and his rag-tag team of would-be questers in search of their first successful challenge. There's Ned, who just wants his parents to understand what he's good at, Terra, an elf kid who's left elfdom behind, Gil, a wizard in training, Boulder, the rock troll who likes to cook, and Ash, a sorta pig, sorta dog, who has flatulence issues.
The team creates a problem for a village by trying to pants a dragon. When the dragon threatens to burn down the village in retaliation unless he gets a sweater made from the fur of a golden beast, the quintet sets off to make things right. When they inevitably run into trouble along the way, they will each need to use their unique set of skills to keep the quest going.
Author Mark Leiknes spins the tale with humor and wit. The graphics along with the narrative keep the story moving along briskly. Reluctant and avid readers alike will find something to love in this first in a series. I recommend it for readers aged 8 to 12.
The publisher provided me with a copy of this title in exchange for my honest review.