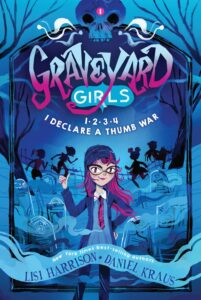 Whisper, Frannie, Sophie and Gemma bond over their love of creepy stories. Every month they get together for sleepovers and scary tales. They also experience frights of the every-day kind, like bullies at school and troubles at home. As their community of Misery Falls, Oregon, gets ready to celebrate the 100th anniversary of the execution of the town's most famous criminal, the foursome welcomes a new member to their group, popular kid Zuzu. Together they face their scariest adventure ever.
Graveyard Girls: 1-2-3-4, I Declare a Thumb War by Lisi Harrison and Daniel Kraus is delightfully creepy and mysterious. The girls wonder if the ghost of Silas Hoke, the long-ago criminal, is out to get them. They even brave the cemetery where he is buried and the abandoned prison where he was executed to find out more. At the same time, they deal with issues familiar with many a middle schooler. The back and forth between the two story lines is fun to follow. And the story-within-a-story, Whisper's horror tale of detached thumbs, is an interesting play on modern technology.
This first in a series is sure to delight readers aged 9 to 12 who like their stories just a little bit scary and creepy.
The publisher provided me with a copy of this title in exchange for my honest review.