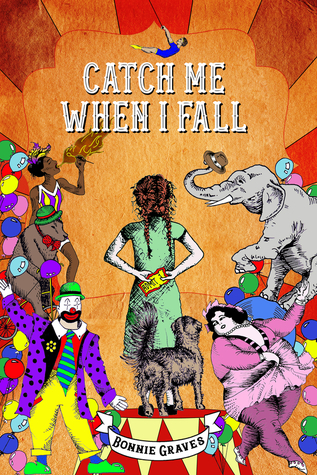 Twelve-year-old Emma knows how to put in a good day's work. Times are tough in Racine, Wisconsin during the Great Depression, but her mother has enough work to put food on the table and Emma helps with chores. Emma's never known her father, and her mother refuses to talk about him. But one day Emma sees a poster for the circus that features the trapeze artist, and he looks exactly like the photo Emma's mother keeps hidden away. Could it be her dad? The only way she'll find out is by earning a ticket to the circus.
Catch Me When I Fall by Bonnie Graves follows Emma's story of self discovery while taking readers on a journey into the world of circus performers from times gone by. Even though Emma's mom forbids her to go near the circus, she earns her ticket by dressing as a boy and hiring on to do set-up work, because she thinks the boss won't hire a girl. She waters the elephants, cleans out their muck, and gets a glimpse behind the scenes as the tents go up and the animals get ready to perform.
Emma is imaginative and curious and she longs to discover more about herself by finding the dad she's never known. But what she uncovers will surprise her in ways she doesn't expect, while also letting her get to know her mom better, too.
I recommend Catch Me When I Fall to readers aged 9 to 13 who like historical fiction, stories of the circus, friendship, family issues, and spunky heroines.
The author provided me with a copy of this title in exchange for my honest review.