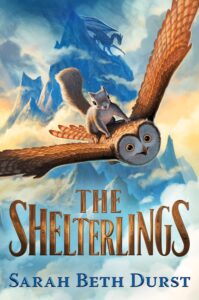 Charlie the beaver used to welcome animals to the Shelter for Rejected Familiars, but since he left one day, Holly the squirrel has done her best to make the other animals feel valued even if their magic is considered not particularly useful. Holly's talent is conjuring pastries, and her friend Gus the owl can turn to stone, even in mid flight. Not many see those talents as useful.
When Periwinkle the lemur arrives, Holly works extra hard to help her fit in, because her talent is for finding lost things, which sometimes seems a bit like stealing them. Then one day Charlie returns saying he has found a way to fix everyone's magic; all they have to do is gather seven key ingredients and chant a magic spell.
Charlie says he doesn't need anyone's help but Periwinkle's, but Holly, Gus and some other animals volunteer and set off on their own adventures. Thus begins the quest in Sarah Beth Durst's novel, The Shelterlings.
While on her adventures Holly starts to see that while her magic may be unconventional, it does have value. And so does her skill for talking with creatures of all types and helping them to see solutions to their problems. She also figures out how to help the other residents at the shelter harness their own talents, imperfect though they are.
When all is not as it seems with Charlie, Holly musters all the courage she has to help the shelterlings save what makes their home special. Her gift for making others feel important and included saves the day.
Filled with a cast of sweet and lovable characters with quirky forms of magic, The Shelterlings is an adventure that celebrates the strengths and flaws found within everyone. I highly recommend it for readers aged 8 to 12.
The author provided me with a copy of this title in exchange for my honest review.