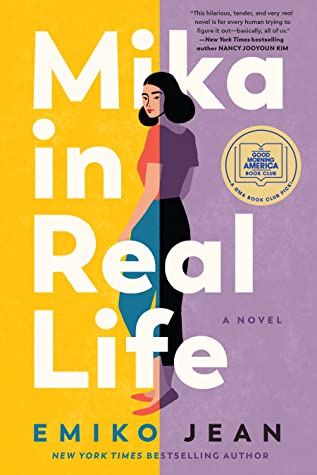 At 35, Mika Suzuki is still waiting for her life to start. An incident in college, a young pregnancy, a daughter given up for adoption, all events that derailed who she thought she would be one day, and she's never truly gotten over them. When she gets a call out of the blue from Penny, the daughter she gave up 16 years before, she suddenly wants to be more, both for herself and for the daughter she hasn't known. But what lengths will she go to in order to win Penny's love and the respect of her adopted dad?
Mika in Real Life by Emiko Jean delves into mother-daughter issues from two perspectives: that of Mika and her daughter and also the relationship she had with her mother. Mika and her mother were never close, and she never felt she lived up to the expectations Hiromi had for her. And since she's meeting Penny as a teen, she's not sure what role she can play in her daughter's life or how to form a close bond with her. Mika finds herself embellishing her reality, and then getting caught in the lies. It's a rocky start.
But when Mika and Penny's dad, Thomas, start to deepen their relationship, Mika has to figure out how to balance her growing feelings for him with her desire to know her daughter. The emotions are complicated, and Jean makes Mika relatable and sympathetic. The book touches on several issues worth exploring: sexual abuse, adoption, parental expectations vs. their children's preferences in life, and more. Mika in Real Life should provide great discussions in book clubs, and issues to ponder for individual readers.
The publisher provided me with a copy of this title in exchange for my honest review.