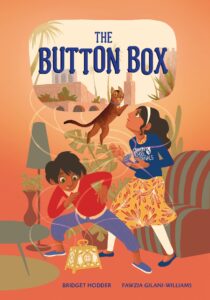 Ava is Jewish and Nadeem is Muslim. They're also cousins who live in a loving, interfaith extended family. When Nadeem is bullied at school, Ava jumps in to defend him. But her own friends advise her to avoid the bullies by staying away from Nadeem, something she won't do.
The children bring their troubles to their grandmother, Granny Buena, who shows them a special button box handed down for generations in their family. She begins to tell them the story of a Jewish ancestor who helped a Muslim leader. But Granny Buena decides to take a rest before she finishes the story. The curious cousins investigate on their own and find themselves in a time-travel adventure.
The Button Box by Bridget Hodder and Fawzia Gilani-Williams is a page-turning historical fiction story that will have young readers cheering for Ava and Nadeem as they unravel the mystery of their family's past. Their unique outlook, coming from two different religious backgrounds, helps them navigate an unfamiliar world.
I recommend The Button Box for readers aged 8 to 10 who like adventure, time-travel, a little bit of mystery, and the wisdom of grandmas.
The publisher provided me with a copy of this title in exchange for my honest review.