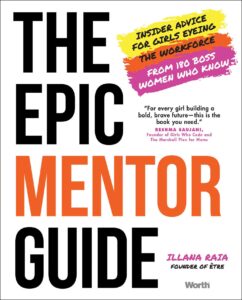 What if girls could get advice from some of the most experienced and respected women working in their fields in the U.S. today? The Epic Mentor Guide: Insider Advice For Girls Eyeing the Workforce From 180 Boss Women Who Know by Illana Raia provides just that, with insights, words of wisdom, actionable recommendations and more for girls who wonder how they can prepare for the working world.
The women who answer questions are not necessarily widely known, but they are all standouts in their fields. They work in sports, journalism, tech companies, fast food, investment firms, nonprofits and more. Each person is asked a question and they respond.
For instance, Michele Ghee, the CEO of Ebony and Jet, was asked, "What's the first thing we should do before asking someone to be our mentor?" She responded, "Offer to be of service before you ask for anything. That's how you build lasting relationships."
Ashley Lynn Priore, founder of The Queen's Gambit, answered a question about how chess strategies are useful in the work world with this quote: "The strategies we lean in chess don't only teach us how to solve problems, but they teach us how to find problems, come up with various solutions to move forward, and decide where to go next effectively and quickly….It's all about life skills!"
With nearly 200 boss women quoted, The Epic Mentor Guide is sure to be inspiring and thought provoking no matter where a girl's interests lie. I recommend it for readers aged 14 and up.
The publisher provided me with a copy of this title in exchange for my honest review.