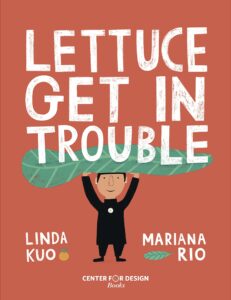 Sara Little Turnbull was a designer who liked to question the way things had always been done. She believed colors and shapes and spaces can be arranged in pleasing ways to enhance many things about the way we live.
A new picture book called Lettuce Get in Trouble by Linda Kuo and Mariana Rio introduces Sara and her ideas to children, particularly around the idea of what children will eat. While The Ministry of Food proposes having children eat what they are told to eat, Sara wants to ask them about what they like. What follows is a child-designed gathering where children from all over bring good things to share.
While I liked the general feel of the book, I found there to be too many ideas to promote in one picture book. For instance, it covers the concept of food types looking good placed next to each other on a plate, the importance of eating fresh food, and creating a zero-waste meal by making plates and utensils from the food items themselves while also talking about children planning a potluck meal with participants ballooning in from all over the world.
And some of the story included things I wouldn't want to say to children I know about food, like Sara proclaiming that it's important to eat vegetables because they're colorful, and different colors bring different kinds of energy (green for peace, red for love, yellow for joy). But the illustrations are fun and the idea that children should have a say in what they eat is a good one.
Lettuce Get in Trouble is intended as the first in a picture book series from the Center for Design Institute, which has a mission to educate and enhance the public's knowledge of design and further the education of underserved women and girls. And it's helpful to know that profit from the book series will support that work.
The publisher provided me with a copy of this title in exchange for my honest review.