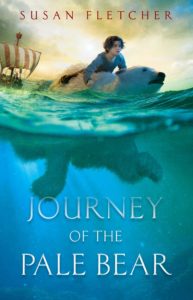 Seeking escape from his stern stepfather and stepbrothers, Arthur is desperate to find a ship that will take him from Norway to Wales, where he hopes to live with his father's family. But no ship needs a scrawny, unexperienced cabin boy. When he comes face-to-face with a caged polar bear, and she seems to calm in his presence, he gets the offer he's seeking: passage to England in exchange for taking care of the bear. As he gets to know the bear, the two become connected in unexpected ways, and Arthur's life changes forever.
In Journey of the Pale Bear, author Susan Fletcher takes a true event from the past and turns it into an adventurous tale about a boy seeking his place in a harsh world. In the mid-1200s the King of Norway sent a white bear as a gift to the King of England. The bear lived as part of a menagerie in the Tower of London. Fletcher's tale expands that nugget of known history by imagining a desperate boy who tends the bear on the journey. The pair fight off pirates, weather a storm, and experience raucous crowds in London. It's a journey that's full of action, but it also has tender moments between Arthur and the bear.
Journey of the Pale Bear is the kind of story that a variety of readers will love. It's great for those who like historical fiction, readers drawn to adventure, and those who like stories about bonds between humans and animals. I highly recommend it for readers aged 9 to 12.
The publisher provided me with a copy of this book in exchange for my honest review.