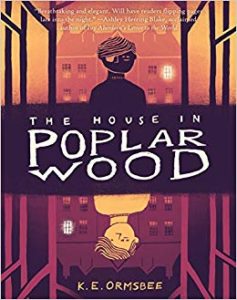 Twin brothers Felix and Lee are bound by a pact made between Death and Memory. Felix works with his father, who serves Death, and Lee works with his mother, who serves Memory. Even though they all live under the same roof, the house is divided, and the parents aren't allowed to see each other or the twin that doesn't live with them. It's an agreement neither boy thinks he can break, until the mayor's daughter, Gretchen, starts pestering them about solving a murder.
The House is Poplar Wood by K. E. Ormsbee adds a touch of creepiness into a fantasy story about ending old feuds, making new friends, and mending families. The boys don't like their servitude. Felix especially wants to be able to stop helping Death carry out his grim duties. They don't trust Gretchen at first, because their families have been feuding as long as anyone can remember. But Gretchen doesn't like her place in her family either. As a second child, she is often ignored and pushed around. The trio can only find a way to upend accepted norms and change their families' lives by working together.
Readers who like inventive tales, a bit of mystery, and stories of friendship and family will find lots to love in The House in Poplar Wood. It can be a bit dark at times, so sensitive readers may want to read it with caution. I recommend it for ages 11 and up.
The publisher provided me with a copy of this book in exchange for my honest review.