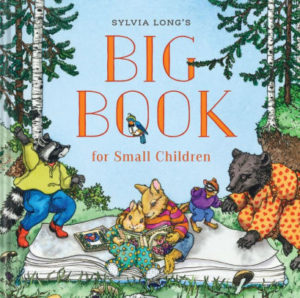 Sylvia Long's Big Book for Small Children is a mash up of classic tales, family recipes, lullabies, and more. It's pages should provide endless fun for moms and dads to read with their little ones.
They will find familiar stories like Goldilocks and the Three Bears, and The Three Little Pigs, but there are also pages with items from everyday life. For instance, the "In the Kitchen" page shows things like measuring cups, a mixing bowl, a skillet, a saucepan and more. There's an alphabet page and a colors page, but also a recipe for The Little Red Hen's Cornbread that comes after the story about The Little Red Hen. Kids will certainly want to make the cornbread, Grandma's Cornmeal Pancakes, and Mama Bear's Porridge.
Illustrations are cute, with animals like cats, bunnies, pigs, foxes, chipmunks and others acting as the main characters. Long also modernizes a few tales, showing the three little pigs as sisters, Papa raccoon baking an apple pie, and Dr. Foster in a classic rhyme as a woman.
The variety of rhymes, tales, and life lessons make for an interesting mix that will surely keep young readers and their parents interested as they turn pages.
The publisher provided me with a copy of this book in exchange for my honest review.