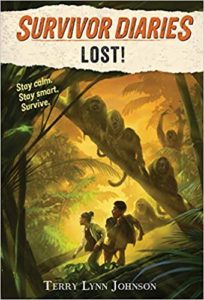 What would you do if you were lost in a rainforest and needed to find your way back to safety? That's the scenario presented in Lost!, a title in the Survivor Diaries series. Drawing on true stories of people who wandered off the path and lost their way, author Terry Lynn Johnson creates a tale that's both a page-turner and how-to survival guide.
Carter and Anna are two pre-teens vacationing with their parents in Costa Rica. After they follow a well-known path away from their resort to find a legendary statue, they get spooked by howler monkeys and run off into the jungle. Once they stop they find they have lost the path, and the density of plant growth keeps them from seeing which way they came from.
Carter knows a lot about the rainforest, and he even has a survival kit, a precaution that helps tamp down his anxiety. But monkeys steal the kit, and the two find they are on their own. By pooling their knowledge and working together, they eventually find their way out of danger and back to their parents.
Survivor Diaries: Lost! is a great book to help young readers consider what they would do if they ever needed to survive on their own. There's even a game they can play online at survivordiaries.com to help them figure out how prepared they already are, and what kinds of knowledge and supplies are useful to have. Just visit the website and click on "Play the Game" for any title in the series already published.
The author is a survival expert who researched true stories from multiple sources, including books, videos, articles, and journals to bring Carter and Anna's story to life. It's a gripping tale sure to spark the interest of readers aged 9 to 12.
The publisher provided me with a copy of this book in exchange for my honest review.