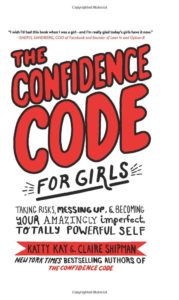 Katty Kay and Claire Shipman, authors of the New York Times bestseller The Confidence Code, have created a new book on confidence especially for girls aged 8 to 12. Aimed at reaching girls at a stage in life when they may need confidence boosters, the book is chock full of good advice, helpful exercises, and real-life examples of girls moving beyond their comfort zone to build self-assurance.
Called The Confidence Code For Girls: Taking Risks, Messing Up, & Becoming Your Amazingly Imperfect, Totally Powerful Self, the book is divided into three sections: The Keys to Confidence, Confidence Inside & Out, and The Confident Self. Each chapter presents a challenge that many girls face, like fear of failure, perfectionism, troubled friendships, and more. Girls can answer questions about how they may respond to challenges and get answers for ways to effectively handle all sorts of situations.
The advice is practical and inspiring, and the tips and tools are easy to follow. Exercises are available throughout the book, and girls can download a shield to create their own confidence code at confidencecodegirls.com.
I highly recommend The Confidence Code For Girls as a tool that girls can turn to again and again as they face changing situations in their lives.
The publisher provided me with a copy of this book in exchange for my honest review.