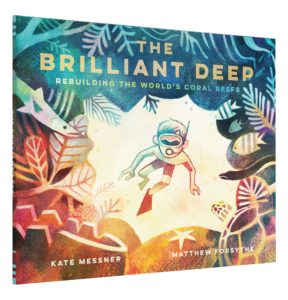 Healthy coral reefs are a sign of a healthy ocean, with lots of fish and other organisms sheltering among the nooks and crannies they provide. Yet, with warming waters and other threats, coral reefs all over the world are in danger of disappearing.
Kate Messner's picture book, The Brilliant Deep: Rebuilding the World's Coral Reefs shows how one person with one idea has been giving new life to these beautiful colonies that build up one coral at a time.
Matthew Forsythe's gorgeous illustrations take readers on a journey below the ocean's surface to see single corals floating in the water as well as other creatures such as turtles, fish, and eels. The words and pictures tell the story of how one boy named Ken Nedimyer grew up to become a man with an idea about how to rebuild reefs near his home.
Nedimyer started a group called the Coral Restoration Foundation and taught volunteers how to farm-raise coral and transplant the colonies in the wild ocean. It's an inspiring story that shows the difference one person can make when he cares deeply about a cause. A page at the back explains what happened to the coral reefs and lists ways kids can help with suggestions for how to learn more.
The publisher provided me with a copy of this book in exchange for my honest review.