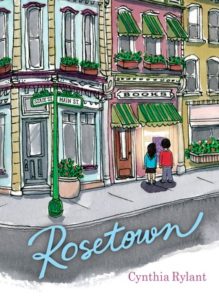 Flora Smallwood's life is changing when she starts fourth grade in Rosetown, the small Indiana community where she lives. Everyone else in her class seems to have grown confident of themselves over summer, but Flora is feeling off balance with her parents' separation. She goes back and forth between their two homes while they figure out what they want to do about their marriage.
Flora has always found comfort reading at Wings and a Chair Used Books, where her mom works three afternoons a week, and soon she's bringing a new friend there too: Yury, who has immigrated from Ukraine with his family. Yuri, along with Flora's new pet, help her get through the uncertain times.
Rosetown by Cynthia Rylant is a sweet book about a girl who is discovering new things about herself and the world around her. The tale follows Flora as she becomes friends with Yury, spends time with her long-time friend Nessy, adopts a cat, learns to play piano, joins a choir, and takes on new things in school. Hers is an ordinary life, which is part of the appeal of her story.
As Flora ponders the new situations that come her way, she learns that people can be happy despite major upheavals, that her parents love her even if they aren't sure about their own relationship, and that friends can have different strengths and be better friends because of it. It's a tale as comfortable as the faded purple chair where Flora likes to read in the window of the bookstore. I recommend Rosetown for readers aged 8 to 10.
The publisher provided me with a copy of this book in exchange for my honest review.