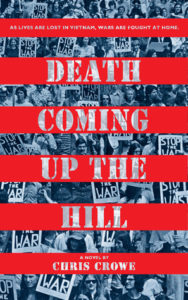 Chris Crowe's novel, Death Coming Up the Hill, brings the turbulent events of 1968 alive for readers as seen through the eyes of Ashe, a high school senior. The story is told in haiku, one chapter for each week of the year. Ashe defines the concept at the start:
There's something tidy
in seventeen syllables,
a haiku neatness
that leaves craters of
meaning between the lines but
still communicates
what matters most. I
don't have the time or the space
to write more, so I'll
write what needs to be
remembered and leave it to
you to fill in the
gaps if you feel like
In 1968
sixteen thousand five
hundred ninety two
American soldiers died
in Vietnam, and
I'm dedicating
one syllable to each soul
as I record my
own losses suffered
in 1968, a
year like no other.
The opening sets the stage for the turmoil to come. Ashe's father is a racist, his mother a peace activist who attends war protests. Ashe debates whether he should enlist in the armed forces after he graduates high school, like so many of his classmates plan to do. He gets through the assassinations of Martin Luther King, Jr. and Robert F. Kennedy.
Week by week, haiku by haiku, he captures the uncertainties of the times and their impact on everyone he knows. Crowe's choice of haiku to tell this story has a profound impact, because it strips away unnecessary language and focuses on the most important occurrences for Ashe and the people he knows.
Death Coming Up the Hill is a haunting tale likely to leave a lasting impression. I recommend it for readers aged 14 and up.
The publisher provided me with a copy of this book in exchange for my honest review.