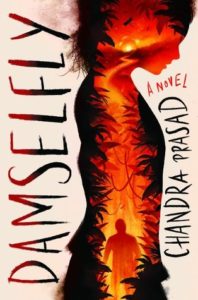 When Samantha Mishra and other members of her high school fencing team crash land on an uninhabited Pacific island, they are sure they will be rescued within a couple of days. The teammates attend an elite private school, and as some of their parents are very wealthy, it seems likely that no expense will be spared to find them.
But as the days go by and no ship or airplane appears, it becomes clear they may have to survive for a long time. They set up systems to find and ration food, water and shelter. But the stress takes a toll, and soon different factions are jockeying for power. They also have to contend with an unknown presence that seems to want to harm them.
Damselfly by Chandra Prasad reimagines the Lord of the Flies scenario. While the characters are older teens of both sexes instead of younger boys, the familiar setup is in place: young people being stranded in a remote location who devolve from civilized action as time goes on. It's an interesting setup filled with tension and mystery. Under stress it doesn't take long for bullying behavior to emerge and conflict to occur. Loyalties forged under normal times intensify.
Damselfly provokes thought for readers about what they would do in similar circumstances, making them examine their survival skills as well as their response to the emotional stress of isolation and injury. I recommend it for mother-daughter book clubs with members aged 11 and up. And if you're discussing Damselfly in a group, you may want to check out the author's Resources for Teachers page, which has ideas for projects, discussion questions and more.
The publisher provided me with a copy of this book in exchange for my honest review.