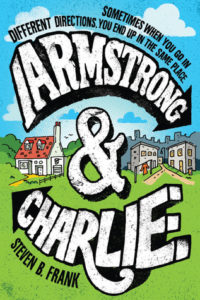 Charlie is about to start 6th grade when he learns that kids from a mostly African American neighborhood will be bused into his school and his friends are transferring out. His parents think it's important that he stay.
Armstrong's parents signed him up for Opportunity Busing to an all-white school, despite the fact that he doesn't want to go. He has to get up super-early each morning to catch the bus, and none of his close friends will be on the bus.
The two boys clash when they end up next to each other in Mr. Mitchell's class, but after a few fights, a few trips to the principal's office, and a trip to science camp, they learn to know and appreciate each other for who they are instead of the expected stereotypes they assume about each other.
Armstrong & Charlie by Steven B. Frank takes place in the 1960s, when schools were being desegregated and communities resisted the change. Charlie's family is still grieving the death of his brother from illness, and Charlie mourns the loss of his friends too. Armstrong's dad lost a leg in the Korean war, and his inability to work strains the resources of a family with six children. Both families believe in the value of hard work, honesty, and integrity.
Even though Charlie and Armstrong learn to see each other as people, not just members of a certain race, others they know are more likely to judge someone based on skin color. When one of Charlie's friends and even his dad express prejudice, he has to decide to ignore it or challenge it.
The author's bio contains a note that the novel was inspired by his own sixth-grade year at Wonderland Avenue Elementary. Even though the novel takes place decades ago, the issues he addresses are still relevant today.
I highly recommend Armstrong & Charlie for readers aged 9 to 12. Issues for book clubs to discuss include historical ones like desegregation of schools as well as current perceptions of race and ways prejudice keeps us from understanding people who appear different from us.
The publisher provided me with a copy of this book in exchange for my honest review.