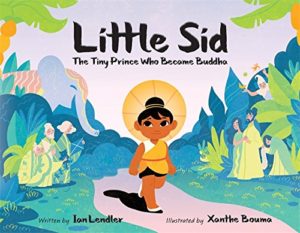 Before Siddhartha Gautama became the Buddha, he was a spoiled young prince that everyone wanted to please. People gave him everything he could possibly wish for, but it didn't make him happy. So he set out to seek happiness in places throughout the countryside. Along the way he discovered the truths that would guide him for the rest of his life.
Ian Lendler's picture book, Little Sid: The Tiny Prince Who Became Buddha, draws upon traditional Buddhist fables to create a children's story about what is truly important in life: relationships and recognizing that while happiness will come and go it's important to be present in the moment.
It also contains a message that may resonate with parents today, as Little Sid reminds his parents that instead of always being preoccupied with many other things they sometimes need to give him their full attention.
Xanthe Bouma's illustrations add a touch of whimsy to the story, and they change color to depict Little Sid's mood as he searches for happiness. It's a look that keeps the story moving along while encouraging readers to notice the details.
For those interested to know more, a note at the back gives a short bio of Siddhartha Gautama.
The publisher provided me with a copy of this book in exchange for my honest review.