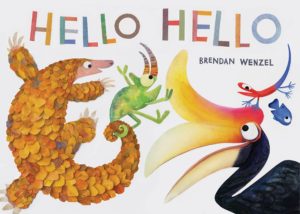 Brendan Wenzel's picture book, Hello Hello explores the animal world by making connections relating to size, shape, color and concepts that will help young children learn about the world around them.
Wenzel starts off with a simple concept—two cats—one white, one black. Then he features other black and white animals before moving to colorful creatures. Tangible features, such as stripes, spots, ears, and noses are compared as well as intangibles, such as quiet, loud, and proud.

Many of the animals featured are endangered, and Wenzel includes a note at the back of the book encouraging children to find out more. A numbered guide to the 92 featured animals, some that may be unknown to parents as well as children, ends the book. It's a great way to introduce children to the variety of animals in the world and spark their curiosity.
Wenzel's illustrations are gorgeous and playful with lots of detail, perfect to encourage lingering over the pages as well as turning them.
The publisher provided me with a copy of this book in exchange for my honest review.