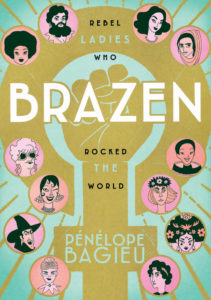 Brazen: Rebel Ladies Who Rocked the World puts the spotlight on 29 women (or groups of women) from different times in history who pushed the boundaries for what women could do. In ancient Greece, Agnodice became a gynecologist at a time when women were forbidden to practice medicine. Nzinga became the first-ever queen of Ndongo (present-day Angola). Mae Jemison from the U.S. became the first female African American astronaut.
In choosing which women to highlight, author Pénélope Bagieu draws on a broad span of history, looks at countries around the world, and broadens her definition of brazen to include women who pushed boundaries in the areas of politics, science, the arts and entertainment, social conventions and more.
Bagieu presents the information in graphic novel form, which gives readers visual cues about each woman's personality to go along with the story told about her. This format makes it easy to skip around and go back several times to reread chapters that readers may find particularly interesting. I recommend Brazen for teens who want to know more about how women have shaken up the establishment throughout history and continue to do so today.
The publisher provided me with a copy of this book in exchange for my honest review.