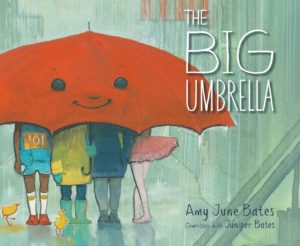 A rainy-day conversation between a mom and her preteen daughter led the two of them to collaborate on a picture book called The Big Umbrella, which uses the metaphor of a red umbrella to show how people of all types can be welcome when taking shelter together.
Amy June Bates is an illustrator who worked with her daughter, Juniper, to develop the story. It starts off with an umbrella by a door and a child taking it to go out in the rain. We don't see a face, only rain boots and a raincoat. Soon the child welcomes others under the umbrella: an athlete, a ballerina, creatures that are tall and hairy, someone in plaid, a dog, and some birds.
As many more take shelter, the umbrella grows and stretches to keep them all dry. Not until the end, when the sun comes out, do we see people of multiple ethnicities, physical abilities, ages, and more emerge from the shelter of the umbrella and mingle together as they go about their daily lives.
The Big Umbrella carries a message of inclusivity, one that children often understand intuitively before they start to notice the existence of prejudice. Parents can use it to start their own conversations with children about acceptance of all types of people.
The publisher provided me with a copy of this book in exchange for my honest review.