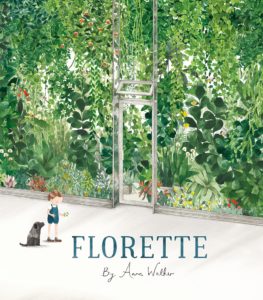 When a little girl named Mae moves from a country home to the city, she misses her garden and the green plants, trees and flowers that grew there. She tries to recreate the things she loves by drawing pictures, but those pictures can't fill her with joy the way her garden did.
Then one day she follows a bird to a store filled with plants. And although the store is closed, Mae finds a small sprig growing from a crack in the sidewalk there. She takes it home to plant and begins creating her own green refuge in the city.
Anna Walker's picture book, Florette, taps into the human yearning for nature and the healing effect if has on our bodies and our minds. Illustrated with beautiful watercolors that show how Mae's drab life gains color as she makes friends and finds joy in nurturing life, Florette can inspire children to plant their own garden and connect with nature no matter where they live.
The publisher provided me with a copy of this book in exchange for my honest review.