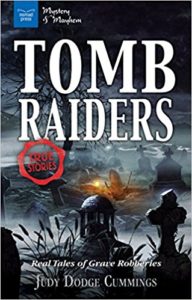 Did you know that in the 1870s kidnappers planned to steal Abraham Lincoln's body and hold it for ransom? Or that the people of New York rioted in 1778 to protest the practice of doctors stealing bodies from graves so they could learn anatomy and practice surgery? Or that an Indiana-Jones-like archaeologist held off potential tomb raiders in Peru to save artifacts and establish a museum? These fascinating stories and others appear in Tomb Raiders: Real Tales of Grave Robberies by Judy Dodge Cummings.
Readers who love the Mystery & Mayhem series (I'm one of them) will be familiar with the format that sheds light on little known or forgotten events in history. Each story contains a timeline that gives perspective to other things going on in the world during the same time as well as a map of the area and it's location in the world. A glossary at the end defines what may be unfamiliar terms to readers, and a page of resources lists website with more information.
I highly recommend Tomb Raiders and other titles in the series for anyone who likes a good story.
The publisher provided me with a copy of this book in exchange for my honest review.