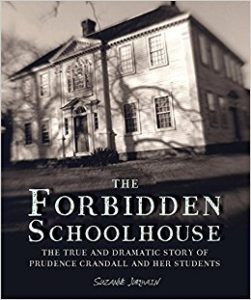 In 1833 a white woman named Prudence Crandall opened a boarding school for "young Ladies and little Misses of Color" in Canterbury, Connecticut, setting off a firestorm of protest in her hometown that lasted until the school closed 18 months later. But during that time Crandall taught girls who would go on to teach at their own schools, and she stood up for the rights of African Americans to receive an education and be treated as equals. Suzanne Jurmain tells her story in The Forbidden Schoolhouse: The True and Dramatic Story of Prudence Crandall and Her Students.
Abolitionists who advocated for the end of slavery were gaining influence in the 1830s, although they often faced violent pushback from those who wanted to keep race relations as they were. Many people who didn't believe in slavery nonetheless did not want to see blacks gain more civil rights. The volatile atmosphere turned neighbors against each other.
As a woman, Prudence had limited ability to advocate for what she wanted. Forbidden to speak at town assemblies that decided policy, she sought out men who would speak for her. She taught even as she faced arrest and jail time, and she kept teaching until the students' lives were endangered by locals throwing rocks through windows at night and setting fire to the house.
The story of Prudence and her students is a fascinating look at what life was like for women and African Americans in Northern states, far from the systemic slavery in the South. It's also a story of how one person can make a difference, particularly when she finds others willing to fight for the same cause. The Forbidden Schoolhouse highlights not only Prudence's bravery, but also the bravery of her students, who so wanted to learn that they were willing to face physical harm to get an education. An appendix tells what happened to each of the students after the school closed.
The publisher provided me with a copy of this book in exchange for my honest review.