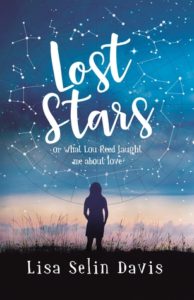 Since Carrie's sister died she's been spiraling downward, drinking and using drugs with Ginny's old friends. Her mom has left, her dad doesn't know what to do, and her younger sister is frightened of her. Carrie resents being forced to enroll in a summer work camp for teens, but as she works to build something new, she slowly reconnects with her old self, the one who liked being smart, the one happy to be an astrophysics nerd.
Lost Stars by Lisa Selin Davis examines a family coping with tragedy. Carrie's parents, dealing with their own grief, aren't available to help her process hers. She doesn't know how to step off the path she chose after Ginny's funeral, and she's not sure how she'll cope after her sister's friends leave for college.
Carrie feels hopeful about a potential relationship with Dean, who is spending the summer next door with his aunt. Dean has his own personal demons, and Carrie doesn't want to frighten him with her problems.
Teens and mother-daughter book clubs with girls aged 15 and up will find lots to consider and discuss in Lost Stars: finding resilience in the face of tragedy, the consequences of engaging in risky behaviors, being true to yourself in spite of peer pressure.
**Spoiler alert: while I think there are plenty of issues to examine in Lost Stars I was bothered by Carrie's conviction that getting a boyfriend would solve all her problems. I would have preferred to see her find a way out of her troubles without looking for acknowledgement of self-worth through a guy. I also thought it inappropriate that Dean was 20, and in college. As a man older than 18, he possibly committed a crime having sex with Carrie, who is 16, even though she consented. Teen girls face real dangers from sexual predators; I believe it's inappropriate to normalize a relationship between an older man and a teen.
The publisher provided me with a copy of this book in exchange for my honest review.
Save