More than 150 years after it's conclusion, the American Civil War provides an ongoing topic of discussion and dissention. Was it begun over slavery? Were state's rights the biggest issue? Were the military tactics that targeted civilians justified? Judy Dodge Cummings addresses all those questions and more while providing hands-on learning for 12 to 15-year-old history lovers in The Civil War: The Struggle that Divided America.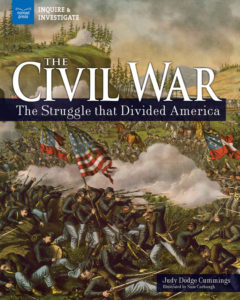 The book, part of the Inquire & Investigate series, is chock full of content that encourages thought and further investigation of the people and events of the conflict. The timeline at the front starts with the advent of slavery in the 1600s in Jamestown, Virginia, and follows major milestones leading up to the 1860s.
It contains numerous sidebars that provide more information on key people, laws, places, and other important events. Each chapter highlights a list of vocabulary words and gives opportunity for further research on the internet or hands-on projects, like the salt dough recreation of the Battle of Gettysburg.
The combination of narrative and activities helps teens learn proactively and in some cases come to their own conclusions based on their research. Appropriate for a classroom or a home library, The Civil War can open up great discussions and inform thinking about this important moment in history.
The publisher provided me with a copy of this book in exchange for my honest review.