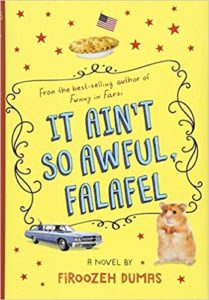 When Zomorod's dad gets a job helping to build an oil refinery, her family moves from Iran to the U.S. The first thing she wants to do is change her name to something that won't make her feel so different, so she chooses to be called Cindy, after the character Cindy Brady on The Brady Bunch. Making friends isn't easy at first, but once she meets Carolyn and joins a Girl Scout Troop, she starts to enjoy living in California.
Then unrest in Iran leads to a change in government, and as relations between that country and the U.S. deteriorate, hostages are taken at the U.S. embassy. Cindy goes from feeling like an ordinary girl to worrying about her family back home and fending off harassment from neighbors and strangers alike. Plus, she fears that she will be forced to return to Iran, where her family may face danger.
It Ain't So Awful Falafel by Firoozeh Dumas provides a humorous and serious look at the challenges of being an immigrant from a country in conflict with the U.S. Even in the best of times, Cindy works hard to help her parents, who struggle with learning English, and to correct misconceptions people have about her and her culture. In the midst of a crisis, stereotypes lead to misunderstandings that can quickly escalate. It's difficult for a middle schooler to navigate it all.
Dumas notes that the book is semi-autographical, which means parts of it really happened to her, and that all the historical facts are true. While the story takes place in the late 1970s, it resonates with current events as well.
I recommend It Ain't So Awful Falafel for readers aged 9 to 12.
The publisher provided me with a copy of this book in exchange for my honest review.