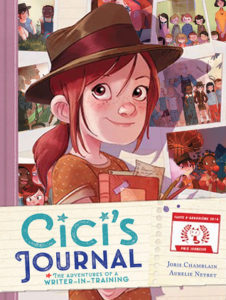 Cici knows she'd like to be a writer when she grows up. "My trick for telling stories," she says, "is to observe people, to imagine their lives, their secrets." To hone her skills at observation, she keeps a journal to capture her thoughts about the people around her. What she finds often turns into a mystery to be solved.
Cici's Journal: the Adventures of a Writer-in-Training by Joris Chamblain, is about a spunky 10 year old who is curious about the world around her. With the help of her two best friends and a famous writer who lives in her town, she investigates when she notices unusual events.
The book is divided into two stories. In the first Cici works to figure out why a mysterious man disappears into the forest in the morning with buckets of paint and comes back out at the end of the day with paint splattered clothes. In the second she wonders why a woman keeps renewing a library book so no one else can check it out.
In both cases, Cici wants to find out what's going on, but she also wants to help the people behind the mysteries. The trouble is, she neglects her friends and lies to her mom in pursuit of her stories.
The graphic novel, beautifully illustrated by Aurélie Neyret, uses several styles to tell the story, including panel action, journal entries, newspaper clippings, postcards, and Cici's drawings and photographs. Cici's Journal, which also contains advice on how to compose stories, should appeal to aspiring writers and young mystery lovers. Recommended for ages 9 to 12.
The publisher provided me with a copy of this book in exchange for my honest review.