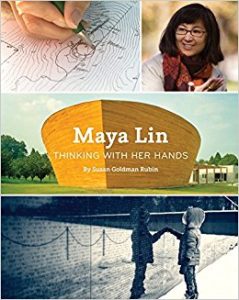 Maya Lin was thrust into the national spotlight when her design for the Vietnam Veterans Memorial in Washington, D.C., completed as a college project, won out over other entries. In her early 20s, she found herself in a struggle to keep the integrity of her vision during a national conversation in which powerful people demanded changes. The experience set the tone for major projects that would come throughout her career.
Maya Lin: Thinking With Her Hands by Susan Goldman Rubin tells the story of Lin's life in a biography accessible to young readers aged 8 to 12. While showcasing Lin's work, the story also focuses on her groundbreaking role as an artist, an achievement even more impressive considering she began her career during a time when women and minorities had to work extra hard to be taken seriously. Photographs show not only Lin's work, but how people interact with her installations, which include buildings, memorials, and places in nature.
The book's release coincides with the 35th anniversary of the Vietnam Veteran's Memorial, which makes it a good time to reflect on the social changes that have occurred during Lin's career.
The publisher provided me with a copy of this book in exchange for my honest review.