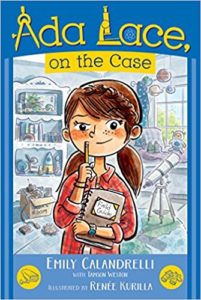 Ada Lace is new in town and her mom wants her to make friends before school starts. She meets Nina and the two of them start observing life in Juniper Gardens, which is their neighborhood. As the two get to know the habits of the people who live around them, they come to believe that someone has kidnapped a neighbor's dog. It will take all their powers of observation, and then some, to solve the case.
Ada Lace, On the Case is a series about a girl who loves science and logic. She has pet turtles, an imaginative younger brother, and she uses technology to solve mysteries. While she doesn't always come to the right conclusions at first, she's open to reviewing evidence that will help her change her mind.
Renée Kurilla's illustrations go along with the cute story perfectly. It's a great idea for a series and it's sure to inspire kids ages 8 to 11 to turn their observation skills to the world around them.
The publisher provided me with a copy of this book in exchange for my honest review.