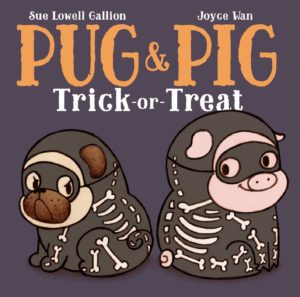 Pug and pig are great friends, but that doesn't mean they like the same things. Pig loves to put on a costume for Halloween, go trick-or-treating, and have fun at a party. Pug hates tight costumes and doesn't care about Halloween. Pig is feeling sad that she'll have to celebrate all on her own until Pug gets a great idea that will make them both happy.
Pug & Pig Trick-or-Treat by Sue Lowell Gallion looks at how friends can be different and still find ways to have fun together. Joyce Wan's illustrations are adorable. Her simple lines depicting smiling and frowning faces convey lots of emotion so little ones can grasp the significance of each character's actions throughout the story.
Parents looking to add a Halloween picture book to their bookshelf can't go wrong with this ode to friendship and individuality.
The publisher provided me with a copy of this book in exchange for my honest review.