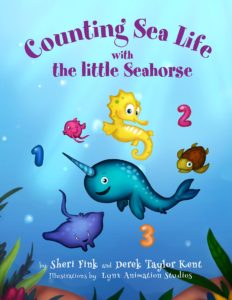 What do you get when you combine a counting book with underwater sea creatures, rhyming words, and a touch of whimsy? Counting Sea Life with the Little Seahorse by Sheri Fink and Derek Taylor Kent.
Kids will have fun learning about ocean life as they count up creatures, some that are well known and others less so. Whales, turtles, crabs and seals are included as well as narwhals, blowfish, and pipefish. Numbers go up from one to twenty, then provide kids with an extra challenge by skipping to 30.
The authors add alliteration (i.e., dandy dolphins, tuna in tutus, jolly jellyfish eating jelly), and a lot of whimsy. For instance, the oysters are performing Shakespeare, the pipefish are pirates, and the narwhals are ninjas.
There are also downloadable coloring pages (click on image to download and print)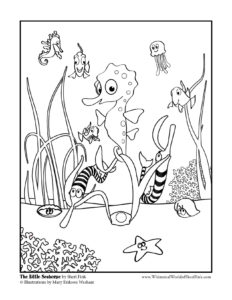 and a way for kids to interact with the authors at the end. It all adds up to a fun way for kids to learn to count with the Little Seahorse as their guide.
For additional info, you may want to check out this interview with the authors: www.youtube.com/watch?v=vTMDe_cZ0Jk
The authors provided me with a copy of this book in exchange for my honest review.
Save