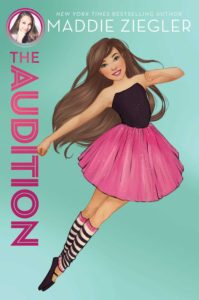 Harper McCoy loves her life in Connecticut. She's got great friends and everyone on her dance team knows her skills. But when her family moves to Florida for her dad's job, she finds herself having to prove her ability at a new dance school. The girls on her new team would rather have their old friends than welcome a newcomer. To win their respect Harper must work hard and show them that they all benefit when they work together.
The Audition by Maddie Ziegler takes readers inside the world of competitive dance, revealing the stamina, athleticism, creativity and more required to stand out. Dancers often start out when they are very young, and they learn multiple styles even though they may excel at one. The world is very familiar to author Ziegler, who is an award-winning professional dancer and who starred on Lifetime's Dance Moms for six seasons.
Ziegler's expertise informs the story and makes it believable. Yet The Audition is also relatable to girls who don't dance, as it may be a familiar story to anyone who has ever been shut out of a group of already close friends (a situation that applies to almost everyone at some point). Harper deals with mean girls, humiliating situations, and more without losing sight of who she is and what she can achieve. It's an inspiring story for anyone.
I recommend The Audition for readers aged 9 to 12.
The publisher provided me with a copy of this book in exchange for my honest review.